This year we will have several PPC presenters on the MSACL 2021 conference online.
Join Jana KINDERMANS and Christophe HIRTZ on Tuesday, September 14 for their presentation on the realization of a high performance diagnostic for the quantification of beta-amyloid in neurodegenerative diseases. Stay after this presentation for a discussion on the blood test used for the preventive detection of Alzheimer's disease.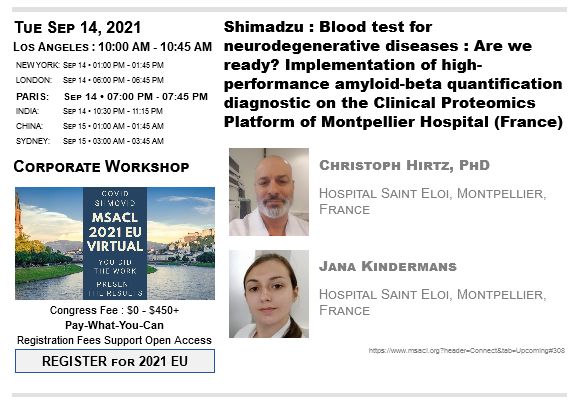 But also our PhD students steal the show! Marie-Laure PONS and Amandine AMALRIC present their thesis subject.
Join Marie-Laure PONS on Wednesday, September 15 for the Mixed Poster Session at the MSACL conference to learn more about the disease of dementia and the mass spectrometry approach to classify the different forms.
Join Amandine AMALRIC on Friday, September 17 for her presentation on epitranscriptomics as a promising source of biomarkers for personalized medicine.